---
Hayden System Duet Concertina for iPhone/iPad
---
The Hayden system layout is very easy to learn to play, with the notes in scale order.
The iPad version is based on the full R. Morse Beaumont model with the addition of an extra D# on the LHS. This makes it possible to play all of the commonly available Hayden concertina variations on the app.
IMPORTANT: On the iPad version, since you may want to play chords with four or more fingers on the screen at the same time, before playing, disable "Multitasking Gestures" on your iPad (in the Settings app, under the General section, turn the Multitasking Gestures switch to the off position).
iPhone Version Instructions:
The left side is one octave below the right side. Scales walk from the left and right edges towards the center.
Two of the most common layout options are provided: mirror image and inverted.
To play, simply press the buttons. You may also slide your fingers between the buttons.
Multiple buttons may be pressed at the same time to play chords.
Touch the '?' button to cycle through the following layouts:
- Mirror image with labels
- Mirror image no labels
- Inverted with labels
- Inverted no labels
On both the iPhone and iPad versions you may transpose the pitch up or down up to one octave in semitone increments (touch the "i" to bring up the controls).
Touch the number to the right of the transpose slide to reset the transpose to zero.
Icon image based on a beautiful R. Morse Beaumont Hayden Concertina
Thank you to Don Taylor for the gorgeous new iPad version graphics!
Uses high-quality audio samples recorded from a very nice instrument.
---
iPhone Version Main screen
---
Mirror image mode note guide shows the notes for each button
---
Inverted mode note guide
---
Questions and Answers
---
Q: Now that I've learned the fingerings for some tunes on the iPhone Touch app, I'd like to buy a real concertina. Who do you recommend?
A: The Button Box carries a wide range of new and vintage instruments.
---
More Apps To Enjoy
AppCordions iOS Apps Catalog
---
Contact
For more information, please contact Michael Eskin or visit the AppCordions.com website: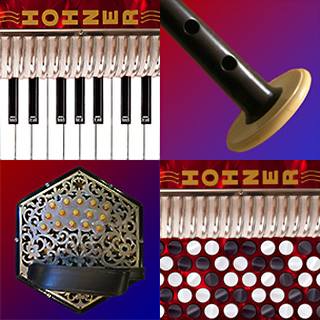 ---
Apple, the Apple logo, iPad, iPhone, and iPod touch are trademarks of Apple Inc.,
registered in the U.S. and other countries. App Store is a service mark of Apple Inc.
---