---
Hohner announces a brand new music app for the iPad: The Hohner Piano SqueezeBox
Mimicking the layout of Hohner's iconic piano accordions, this intuitive virtual accordion is easy to play and sounds exactly like the real instrument.
The Hohner Piano Squeezebox has a two-octave 24-key treble keyboard and 36 bass/chord buttons.
The app now supports both Audiobus and Inter-App Audio for use with GarageBand and other multi-track recording apps.
Choose from three great treble sounds: Clarinet (M) or two different animated Musette (MM) reed sets.
Touch the "?" button to rotate through the different note label displays. The ones with the red B note and grey marker dots on the low C and high A are for use with Accordion Life lessons.
Touch the "i" button to show the controls where you balance the volume and reverb settings for the treble, bass, and chords independently.
Choose between Bass/Major/Minor/7 or Counter Bass/Major/Minor configuration for the left side of the instrument.
Touch the Hohner logo for the help screen with a link to the Hohner accordion website or touch the Accordion Life logo to start learning with online accordion lessons.
The Hohner Piano SqueezeBox app allows musicians to practice chord combinations, scales, and songs on-the-go.
Headphones can be used for private practice, or the audio output of the virtual accordion can be amplified by plugging into computer speakers, or other sound enhancing devices.
This app is ideal for the beginning student or professional musician who needs a simple carry-on companion to compliment his or her actual accordion. While not meant to be a replacement for a real accordion, the app is a convenient and easy tool for practicing, learning, or teaching.
Since you may want to play chords with more than 3 or 4 fingers, you'll need to turn off "Multitasking Gestures" in your iPad's Settings, under General/Multitasking Gestures.
---
Demo Video
---
Main Screen
---
Touch the "?" button to show the Bass Button labels (Bass mode)
---
Touch the "?" button again to show the Bass Button labels (Counter-bass mode)
---
Touch the "?" button again to show the Accordion Life lessons red B key screens
---
Touch the "i" button to show the Volume and Reverb controls
---
Touch the Hohner logo to show the Help screen
From here you can visit the Hohner accordion and Accordion Life online accordion lesson websites
---
Accordion Life is a great site for online video instruction for all styles of accordions.
Go to AccordionLife.com now to learn to play.
---
Friend and Follow

Visit Hohner on Facebook

Watch Tradlessons Demo Videos

Follow Tradlessons on Twitter
---
More Apps To Enjoy
---
Contact
For more information, please contact Michael Eskin or visit the AppCordions.com website: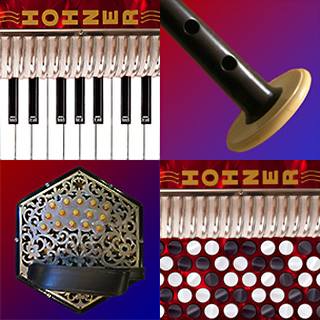 ---
Copyright ©2015 AppCordions.com
Apple, the Apple logo, iPad, iPhone, and iPod touch are trademarks of Apple Inc.,
registered in the U.S. and other countries. App Store is a service mark of Apple Inc.
---