---

"ScotsPipes Play the Scottish Highland Bagpipes" for the iPhone/iPod Touch/iPad
---
ScotsPipes is an easy to play, authentic sounding set of Scottish Highland Bagpipes for the iPhone, iPod Touch, or iPad.
Touching each of the holes makes a different tone of the standard bagpipes scale.
Once you touch a hole, the chanter plays continuously just like a real Scottish Highland chanter.
Touch the drones image to switch the drones on and off.
To stop the chanter playing, start and stop the drones.
Touch the 'i' icon at the bottom center to bring up the settings page. Here you can adjust the balance between the drones and chanter as well as turn the reverb on/off. (Reverb requires iOS 5.0 or later)
On the settings page, touch the ePipes logo to visit their website, or touch the TradLessons logo to learn more about my other music apps.
The drone and chanter sounds are provided by ePipes in Glasgow, Scotland, and are high quality per-note studio recordings of a world-class set of Great Highland Bagpipes.
Have an iPad and want a full realistic Highland Bagpipes app? Please check out my "Bagpipes" app for the iPad, which is played with the same fingerings as the real chanter.
---
Please click on the logo below to learn more about ePipes and their fine virtual piping instruments and controllers:
---
Main screen, drones off
---
Drones on, playing a note
---
Touch the 'i' icon to bring up the settings page
---
Tips and Techniques
There are two sets of volume controls on your device, the overall volume control using the hardware buttons, and the drone/chanter balance controls on the back page of the app.
This allows optimal volume for a wide variety of uses and situations from live play, to use with headphones or plugged into an external amplifier.
If you experience any distortion or overloading, first try setting the app volume to mid-range, then increase the device volume as required.
You can also slide between holes.
For some real fun, run the output of your iPhone or iPod Touch through an external amplifier or outboard effects. I use a Roland Cube-ST portable amp that has both reverb and chorus effects, the end result is quite amazing.
---
Free Online Highland Piping Instruction and Resources
Pipe Major William Robertson has an extensive set of free online Highland bagpipes lessons.
Calvert County Fire & EMS Pipes and Drums in Maryland has many tunes written out on their site.
City of Winchester Pipes and Drums in Virginia has a very nice collection of tunes in standard notation as .bmp images.
The Fort Collins Pipe Band has many tunes online, also some solo marching drum recordings.
There is a wealth of information online at Bob Dunsire Bagpipe Forums.
---
Future Plans
I am very interested in any suggestions for features or improvements to the apps for future updates, please drop me an email anytime with your ideas!
---
More Apps To Enjoy
AppCordions iOS Apps Catalog
---
Contact
For more information, please contact Michael Eskin or visit the AppCordions website: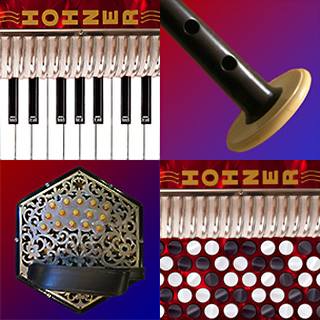 ---
Apple, the Apple logo, iPad, iPhone, and iPod touch are trademarks of Apple Inc.,
registered in the U.S. and other countries. App Store is a service mark of Apple Inc.
---