---

"HexJam" Hexagonal Jammer Concertina for the iPhone and iPod Touch
---
HexJam is a high-quality, easy-to-play, Hayden-Wicki style hexagonal layout "Jammer-style" concertina for the iPhone/iPod Touch.
The scale patterns are very intuitive, and the built-in note guide makes it easy to learn to play!
Concertinas, sometimes called "squeezeboxes", sound like a small accordion or reed organ.
The 52-button keyboard can be configured to play with either the left or right hand. The keyboard has a 3 1/2 octave range.
There is a very good background article about Jammer keyboards on Wikipedia:
To play, simply touch the buttons.
Multiple buttons may be touched at the same time to play chords.
You can slide between the buttons.
Touch the '?' icon to show the note names for each button.
Touch the 'i' icon to show the settings/help page.
Play along with tunes in your iPad's music library by starting a track using the iPhone/iPod Touch/iPad iPod app, then launching the HexJam. Adjust the volume by touching the 'i' icon, then use the on-screen volume control.
Uses high-quality audio samples recorded from a high-end concertina.
Have an iPad? Interested in the same style app with two full 52-button mirror image keyboards on the screen at the same time, one for each hand? Please check out HexJamHD.
---
Demonstration video using two iPads
The sound was recorded directly from the headphone jacks on the iPads.
Click here for the high-definition version of the video
---
HexJam main screen (right hand layout)
---
Right hand layout note guide (touch the '?' icon)
---
HexJam main screen (left hand layout)
---
Left hand layout note guide (touch the '?' icon)
---
Touch the 'i' icon to show the Settings/Help page (touch the 'i' icon)
Right hand layout selected:
Left hand layout selected
---
Questions and Answers
---
Q: I'm not hearing any sounds! Help!
A: Make sure your ringer switch isn't in the "mute" position and that the volume controls on the iPhone/iPod Touch as well as the volume slider on the HexJam settings page aren't turned all the way down.
---
Q: Where can I learn more about how to play this style of instrument?
A: Jim Plamondon and Ken Rushton's websites are the definitive starting point for all things having to do with Jammer-style controllers:
Ken Rushton - Music Science Guy
There is also a very good background article on Wikipedia:
---
Future Plans
I am very interested in any suggestions for features or improvements to the apps for future updates, please drop me an email anytime with your ideas!
---
More Apps To Enjoy
AppCordions iOS Apps Catalog
---
Contact
For more information, please contact Michael Eskin or visit the AppCordions.com website: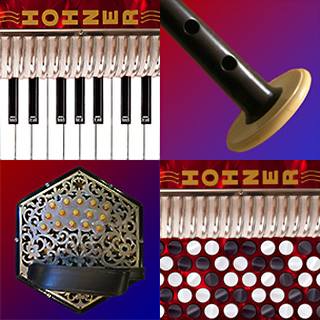 ---
Apple, the Apple logo, iPad, iPhone, and iPod touch are trademarks of Apple Inc.,
registered in the U.S. and other countries. App Store is a service mark of Apple Inc.
---